EXERCISE PLAN: FIT IN FIFTEEN
WELCOME TO FIT IN FIFTEEN!
Being a mom of two, I know how hard it can get to take time out of your day to go to the gym or take an exercise class. It's easy to make resolutions, but work, kids, school all seem to get in the way and before you know it, that plan to start exercising regularly gets thrown out of the window. You're back in the same cycle of unhealthy eating and not working out and you can't figure out how to get back on track. I know this because I have been there and done it, time and again! If you are with me, I recommend you watch this video. It tells you what Fit In Fifteen is about and why I created it.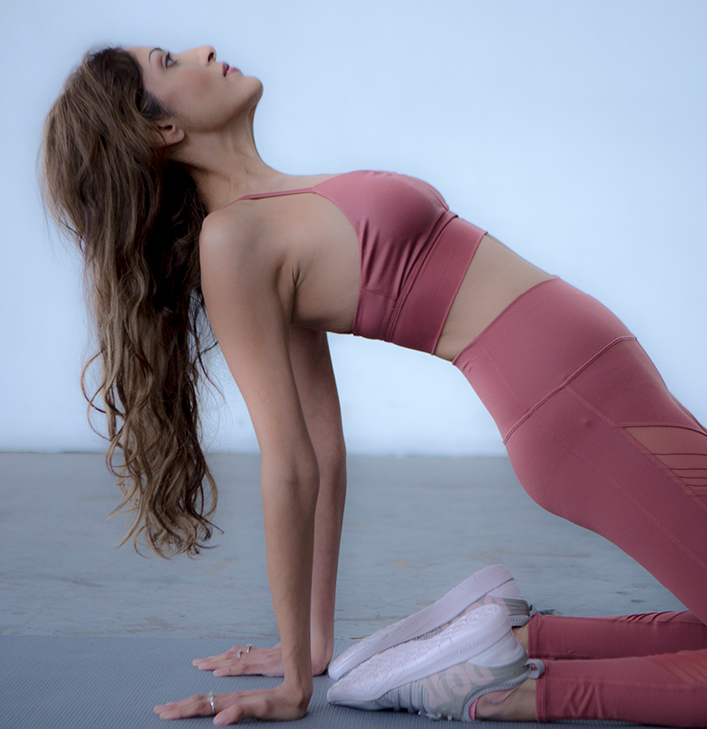 THREE THINGS I'VE LEARNED
OVER THE YEARS
Exercising becomes more fun if you are not doing it alone. It's so much more motivating if you know that you have a community from all over the world to support you and push you forward in your journey.
Exercise works when it fits into your lifestyle conveniently. If you are travelling long distance to get to the gym or you have to spend time finding parking when you go to workout, it starts becoming inconvenient and you are more likely to bail.
You don't need to exercise for an hour or more everyday to get results. Working out for 15 minutes a day is enough if your workout is intense for your fitness level.
WHAT DO I GET WHEN I SIGN UP?
STREAM OVER 30 WORKOUTS WITH MORE ADDED OVER TIME. We want you to lose body fat, tone up and feel great without having to spend hours at the gym. The program has over 30 workouts that are no longer than 15 minutes each, including a warm-up and cool-down! You can do them at home, in your office, at the park or gym, as long as you have a phone or a computer. The workouts range from low to high intensity and we have everything from HIIT, Strength Training, Dance and Yoga in there. Whether you are a college student, a busy professional or have a full time job, Fit In Fifteen will give you the results you have always wanted!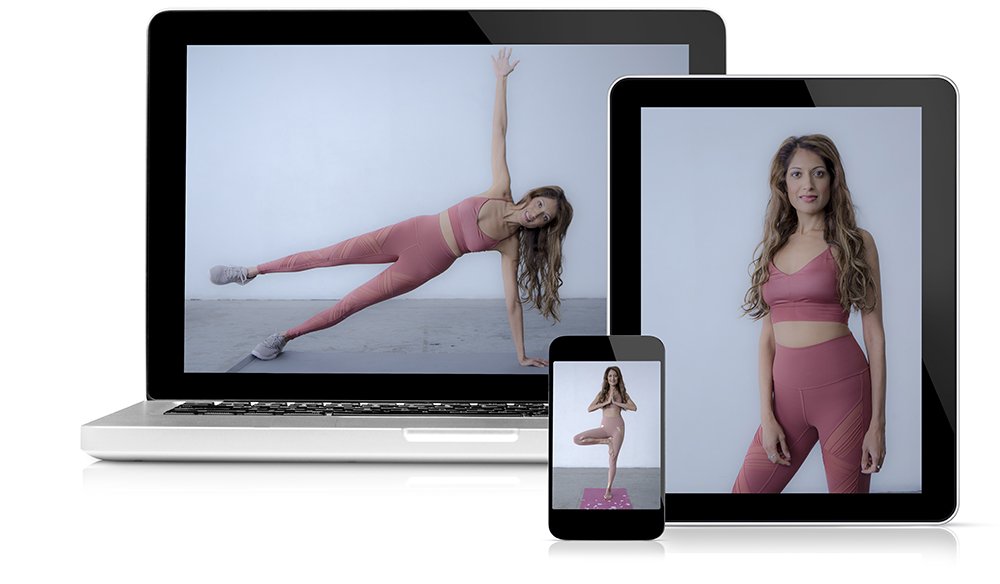 ACCESS THE FIT IN FIFTEEN COMMUNITY. As soon as you sign up, you get immediate access to our private
Facebook group, where you can ask questions, share progress, get fitness tips and most importantly make new friends from all over the world!
GET THE OM MEAL PLAN FOR FREE. Also, let's face it, you need to support your exercise with the right nutrition! So, when you sign up for Fit In Fifteen you get the Om Food Plan (original price $25.00) for absolutely FREE. You can access several healthy recipes, lists of macros, fitness tips and have the option to follow our meal plan to support your fitness journey.
HERE'S THE BEST PART. The longer you remain subscribed with our Fit In Fifteen tribe, the larger and larger
library of workouts you will collect over time!
Start your 7-Day FREE trial now!
FREQUENTLY ASKED QUESTIONS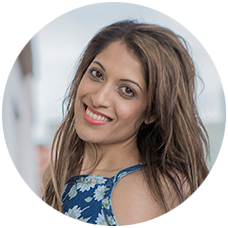 How do I access the Fit in Fifteen workouts?
Once you subscribe, you will create a user name/ password for yourself. You will log in (using the member log in), each time you access the workouts.
You will get access to all workouts 24/7 as long as you are subscribed. You will also get access to new workouts, as they are added to the library. You can choose to do a single workout or add more workouts to your routine as you get stronger.
You can stream the workouts on your smart phone, android or computer as long as you are connected to the Internet from anywhere in the world.
How do I use the program once I sign-in?
Once you sign in to your account, you can choose any 10-minute AMRAP (As Many Reps. As Possible) workout you like. We have many options of high/low intensity, dance and yoga based circuits.
Once you choose a workout, make sure you do a quick 'warm-up' from the options provided before you start your circuit.
Then, set your timer to 10 minutes and do the entire circuit of exercises from your chosen workout, as many times as you can in 10 minutes.
Once done, you can choose another AMRAP circuit or move on to a "Cool-Down" of your choice. This depends on how much time you have and your fitness level.
How will I get the best results from "Fit In Fifteen"?
Stay consistent. Make sure you get at least one workout in, 5 days a week.
Support your exercise with the right food. Use all the tips and recipes from the Om Food Guide to support your fitness journey. The best part is, that you get the Om Food Guide (Value $25.00) for absolutely FREE when you sign up for Fit In Fifteen!
Make sure you add more workouts or increase the intensity of your workouts by adding weights, as you get stronger over the weeks.
For an extra boost, you'll benefit from membership in the "Fit In Fifteen Community", our private online group dedicated to peer support and help you gain strength through motivational stories, tips and healthy trends. This is also the perfect place to ask questions.
Is this a recurrent payment or one-time payment?
This is a subscription based plan. You will receive NEW workouts the longer you stay subscribed.
Do I lose the previous workouts after each new month?
Nope! That's the best part! The longer you stay in the program, the larger the workout library! How awesome is that?!
What if I want to unsubscribe?
We would be bummed to see you go, but I understand life happens! You can unsubscribe at any time through the "My Account – Subscriptions" tab once you're logged in! Then simply click Cancel next to subscription. You will be immediately removed from our Facebook community as well.