ARE YOU
SICK & TIRED
OF NOT
FEELING YOUR
ABSOLUTE
BEST?
I hear you! I was there 10 years ago,
and I honestly wish I had someone
who could have shown me that there
was an easier way to better health.
GIVE ME 10-WEEKS TO GET YOU
IN THE BEST SHAPE OF YOUR LIFE!
Watch my video to learn more 🙂
10 WEEK STEP-BY-STEP PROCESS TO GET TO YOUR GOAL
• Bi-Weekly Group Coaching Calls
• Meal Plan w/Veg, Non-Veg, Vegan options
• 3 Effective Workouts for each week
• Video Modules with Food Tips & Mindset Exercises
24/7 Access To Uma & The Om Team via private What's App and Facebook Group
THE OM 10-WEEK CHALLENGE
IS FOR YOU IF:
You are ready to
part with
excess
body fatand learn all the
tools to keep it
off for good.
You want to learn how
healing food can naturally
reset your
hormonesand get rid of symptoms
like fatigue, brain fog,
insomnia, skin problems,
hair loss, painful periods
and reproductive issues
associated with chronic
hormonal imbalances.
You want to learn
what foods
you absolutely
needin your kitchen and
the ones you need
to get rid of.
You want to learn
how you can use the
food that you eat, to
control hunger
hormonesand feel satiated
between meals.
You are ready to
improve your
digestive healthand get rid of gas,
bloating, acid reflux,
constipation and
other digestive issues
you have been dealing
with for years.
You want to naturally
fix your
autoimmuneand allergy issues.
You are ready to make
regular
exercisea part of your routine,
but don't know
where to start.
You are curious
about how your
mindset
can positively impact
your ability to
reach your health
and fitness goals.
You want to
integrate
practices of
mindfulness
and healingin your routine and
use them to support
optimal health.
OM 10-WEEK CHALLENGE
will run for 10 weeks
ARE YOU IN?
JUST 20 MINUTES PER DAY!

YES! I want to take the OM 10-Week Challenge.
HERE'S WHAT YOU GET WHEN YOU SIGN UP
FOR THE OM 10-WEEK CHALLENGE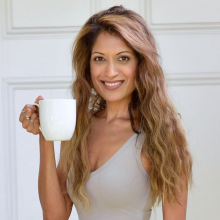 BI-WEEKLY GROUP COACHING CALLS WITH UMAAll participants will be invited to join Zoom calls (group calls) with Uma or another expert in the health & fitness industry. These calls will be approximately 90 minutes in duration and set up on a bi-weekly basis. Each participant will get a chance to ask questions and share their progress. We will also discuss a special topic during each call. (The time zone of all participants will be considered when we set up calls.)
OM FOOD GUIDEThe Om Food Guide comes with a recommended meal plan to get the best results from the Om10-Week Challenge, that each participant will use along with nutritional guidance from Uma. There are detailed food lists to choose from, as well as veg/non-veg recipes, so that you can make the right eating choices whether you are cooking, ordering in, traveling or going out to eat.
FOOD TIPS (VIDEO MODULES)Uma will share an important food or nutrition tip with you at the beginning of each week of the challenge that you can incorporate in your lifestyle for that week and continue using it throughout the challenge. You will have 10 such useful tips at the end of the challenge.
Topics covered with these modules include
• Why sugar can be inflammatory and foods with hidden sugar.
• Healthy mid-meal snack options.
• Why counting calories is not sustainable.
• What is reverse fasting and how it can aid fat loss and longevity.
• Foods that will support a healthy gut micro biome.
• Healthy fats and how you can include them in your meals.
• How you can make healthy choices when you go out to eat.
• Gluten and when it is advisable to go gluten-free.
• Top inflammatory foods and how to follow an elimination diet.
• How you can use what you have learned in this challenge to create a sustainable lifestyle.
MINDSET EXERCISES (VIDEO MODULES)Uma will share one mindset exercise or practice at the beginning of each week that you can follow for that week and continue using throughout the challenge. You will have 10 such useful mindset exercises at the end of the challenge.
Topics covered with these modules include
• The power of setting an intention.
• How to set yourself up for a productive day.
• Sleep and its relationship with fat loss.
• Stress and how it can influence your health.
• Self care practices and their relationship with health.
• The importance of human connection.
• Meditation and how you can create your own practice.
• Your energy circle and how to use it for maximum efficiency.
• The power of being present.
• What you can do when you go off track.
MOVEMENTEach week you will get a suggested workout schedule, along with 3 brand new easy-to-do, yet powerful (15 minute) workouts, that are designed to ignite your metabolism quickly, so your body keeps burning fat long after your workout is done. All of these bodyweight exercises can be done at home and they don't require any equipment, machines, or any fancy gizmos. Uma may suggest an individualized workout schedule to some participants, depending on their health history and goal.
ONLINE LOGGING SHEET AND PROGRESS TRACKINGThe participants will be provided with downloadable log sheets for each week. The log sheet gives you easy charts and guidelines that you can use to log your meals, workouts and mindset work each day of the challenge.
You can also use the online app "My Fitness Pal", if that's more convenient.
PRIVATE ONLINE COMMUNITYExclusive access to a private Facebook /What's App group, where Uma will guide you with daily motivation and answer all of your questions before and during the challenge, so that means you will have direct access to Uma for accountability for the entire 70 days, plus the other members who will support you. This is a great way to gain new friends and really motivate and inspire each other on to success.
HERE'S WHAT FORMER CLIENTS HAVE TO SAY
THE GOAL OF MY 10-WEEK CHALLENGE IS TO EMPOWER YOU!
I want to give you all the tools that you need to achieve optimal health
and make it sustainable! I don't just want to see you succeed in the challenge.
I want you to succeed for years to come and live a long, disease free life!
The cost of working one-on-one with me is $800 for 8 weeks! I know that my coaching is worth it because of the amazing results, but an $800 price tag puts this opportunity beyond the reach of most people who could benefit from a healthier lifestyle. So I've decided to set this up so that your investment is a fraction of that amount.
IF YOU JOIN THE
10-WEEK CHALLENGE NOW,

you will have direct access to me for the entire challenge, bi-weekly zoom calls to get your questions answered,
a step-by-step formula to part with excess fat, the effective workouts,
exclusive access to a private Facebook group, for daily motivation and guidance,
as well as a meal plan with healthy recipes for
$299.99
ONE-TIME INVESTMENT TODAY
Are you ready to prioritize your health for 10 weeks?
What are the
exact dates of
the challenge?
The challenge runs from January 11th 2021 to March 22th 2021. It's going to be an incredible 10-week journey that will take you from where you are at right now to where you want to be in terms of your health.
We will close enrollment on January 10th at 12 pm PST, 2021. No exceptions. This gives each participant enough time to be fully prepared for the challenge.
When does
enrollment
end?
No! You can take the challenge from anywhere in the world. The course work and can be accessed online 24/7. The zoom calls will be at two different times every week, based on the location of all participants.
Uma will check in with the private FB group/What's App group once a day, to answer questions and share useful tips. In addition, you will have 5 Zoom Coaching Calls (once every 2 weeks) with Uma or another health expert. This is a great opportunity to ask questions and share your progress.
How involved
will Uma be
during the
challenge?
I have never
taken a health &
fitness challenge
before. Will I be
ready for this?
Yes! You can be an absolute beginner. Uma has designed this challenge keeping in mind that there will be a wide range of participants with different health histories and goals. All the course work is easy to follow and can be modified based on your health and fitness level.
20 minutes/day is all you need. The Modules for each week will open on the Sunday before that week. Each participant can go through the Mindset Exercise and Food Tip at their own pace, as long as they complete them within that week. There will be a workout schedule to follow through out the week as well.
How much time
will it take to
complete the
course work?