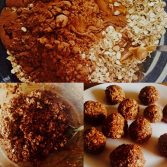 Choco Peanut Butter Balls
The holiday season is here and it's my favorite time of the year! I don't know about you, but my kids are very excited to celebrate every holiday right from Halloween to Diwali to Thanksgiving and finally welcome the New Year!
One big part of the holidays is that we are invited to parties and functions all the time and are surrounded with sugary drinks, candy and dessert!
I know I cannot eliminate sugar and candy from my children's lives completely and I don't intend to do that, but I try to find healthy substitutes that I can make at home as much as possible!
I love to cook and I have experimented with holiday recipes to try and find healthy options that taste delicious and today I am going to share my Choco Peanut Butter Balls recipe with you. I love this recipe because it is super quick to make and always a hit with my kids! This makes are great lunch box treat, after school snack or dessert at a holiday party!
Choco Peanut Butter Balls
Prep Time: 10 minutes
Cooking Time: No cooking required
Serving Size: Makes about 10 small balls
Ingredients:
11/2 cups rolled oats (I use 365 Organic)
1/2 cup peanut butter (I use Trader Joes Smooth Organic)
4 tsp. raw cacao powder
1/2 cup raw honey (I use 365 Organic)
1/2 tsp. vanilla extract
1/2 cup chocolate chips
1/4 cup almond milk (I use organic, unsweetened)
Swaps and Add-ons:
Use almond butter instead of peanut butter
Use raw cacao nips instead of chocolate chips
Use regular milk or water instead of almond milk
Add dry coconut if you like
Add Chia seeds if you like
Add protein powder if you like
Directions:
1.  Put everything in a blow and mix well. I wear gloved and use my hands to mix.
2. Roll into small balls.
3. Eat immediately or put them in the fridge for couple of hours, chill and enjoy!