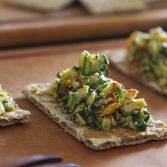 Eggs On Crackers
Prep Time: 5 minutes
Cooking Time: 10 minutes
Ingredients:
6 organic eggs
2 cups finely chopped spinach
1 teaspoon coconut oil or EVOO
1 tablespoon whole milk
4 light rye Wasa crackers or whole-wheat crackers
2 teaspoons smooth peanut butter
1 teaspoon hot chili sauce – I use Sriracha
salt and pepper to taste
Directions:
Heat coconut oil in a pan or skillet. Add the spinach to the oil and let it cook for a minute.
Add 6 eggs, whole milk, salt and pepper and make a scramble. You can add Feta cheese to the scramble if you like.
Put peanut butter on the Wasa crackers and place on a serving dish. Add the scrambled eggs on top of the crackers and top it with hot sauce as per taste.
Serve hot. Serves 2 people.