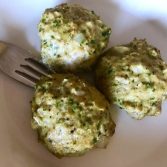 Healthy Chicken Meatballs!
Here's a quick meatball recipe that's healthy and delicious at the same time!!!

Prep time: 30 minutes
Cooking time: 20 minutes
Servings: Makes 10 medium meatballs
Ingredients:
1 pound organic ground chicken (I use white meat)
½ cup chopped spinach
½ cup minced onions
1 teaspoon fresh ginger and garlic paste
1 cup almond flour
½ cup almond milk
1 tablespoon organic coconut Amino Teriyaki Sauce
1 teaspoon Sriracha sauce
1 teaspoon avocado oil
1 teaspoon ground pepper
salt to taste
Swaps:
• Use ground grass-fed beef instead of chicken
• Use kale instead of spinach
• Use cow's milk instead of almond milk
• Use bread crumbs instead of almond flour
• Use grapeseed oil instead of avocado oil
Directions:
1. Pre-heat oven to 350 degrees F.
2. Mix all ingredients in a bowl.
3. Make meatballs of the desired size with your hands.
4. Place them on a baking sheet with aluminum foil.
5. Bake for 18-20 minutes or until the meatballs look golden-brown from the outside.
6. Serve hot as an appetizer, or for dinner with your favorite pasta!