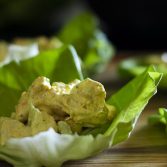 Mom's Chicken Salad Cups
Cooking time: 20 minutes
Prep time: 15 minutes + 30 minutes in the refrigerator
Ingredients:
1 lb. organic boneless skinless chicken breast
1 cup chopped celery
1 cup chopped carrots
1 tablespoon yellow mustard
1 tablespoon organic olive oil mayonnaise – I use Spectrum
1/2 cup low fat Greek yogurt
1 tablespoon curry powder
1/2 teaspoon cayenne pepper
salt and pepper to taste
1 head Butter or Bibb lettuce – leaves separated
Directions:
Add the chicken breast to a skillet and season with a pinch of salt and pepper. Fill with water just to cover the chicken. Bring to boil over medium heat, and then reduce the heat to maintain a gentle simmer till the chicken is cooked and tender. This should take about 20 minutes. Once cooked, drain the water and chop the chicken into bite site cubes. Let it cool to room temperature.
In a bowl, mix the chicken breast with celery, carrots, mustard, mayonnaise, Greek yogurt, curry powder, and cayenne pepper. Season with salt and pepper.
Keep the mixture refrigerated for 30 minutes.
Spread the lettuce leaves on a serving tray. Serve heaping portions of the salad in lettuce leaves.
This makes a great lunch or a fun healthy appetizer at a dinner party.