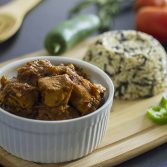 My favorite chicken curry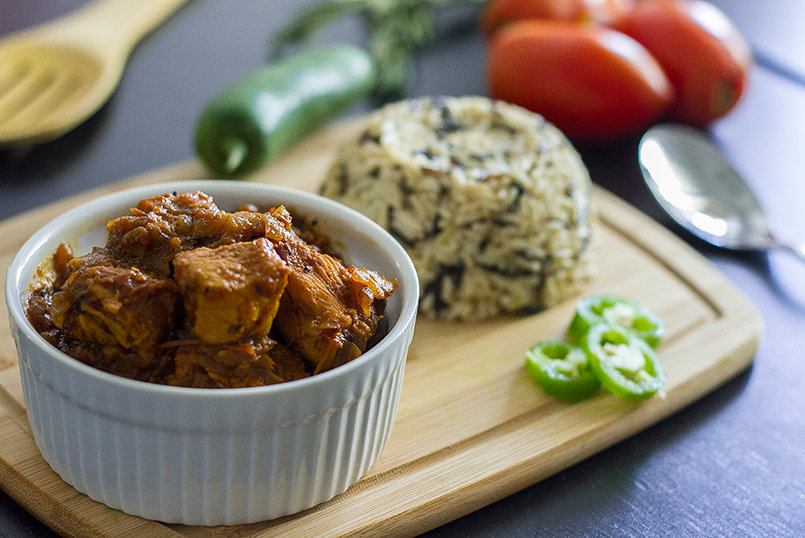 Prep time: 60 minutes
Cooking time: 50 minutes
Servings Size: 2
Ingredients:
For the Marinade:
1/2 cup full fat Greek Yogurt
1 teaspoon ginger paste
1 teaspoon garlic paste
½ cup finely chopped mint
pinch of salt
For the Masala:
1 teaspoon coriander seeds/daniya
1 teaspoon cumin seeds/jeera
1/2 teaspoon green cardamoms/elaichi
1/2 teaspoon cloves
1/2 teaspoon peppercorns
2 sticks of cinnamon (about 2 inch)
1 large bay leaf
¼ teaspoon nutmeg
¼ cup freshly squeezed lemon juice
¼ cup water
Other ingredients:
1 pound chicken (I use boneless, skinless, organic)
1 tablespoon olive oil (I use EVOO)
2 cups finely chopped onions
2 cups finely chopped tomatoes
½ cup finely chopped cilantro
2 teaspoons Kasuri Methi (Dried Fenugreek leaves)
1 teaspoon turmeric powder
1 teaspoon red chili powder
½ cup Greek yogurt
½ cup water
salt to taste
Directions:
1. Chop chicken into small cubes. In a bowl mix all of the ingredients of the marinade with the chicken and let it sit for 1 hour at room temperature. Keep it in a cool place.
2. In a blender, mix all of ingredients of the masala and blend them together.
3. In a large non-stick skillet heat the EVOO and add the onions to it. Cook on medium heat for 20 minutes for until the onions are golden brown.
4. Add the marinated chicken, masala, tomatoes, turmeric powder, kasuri methi, red chili powder and salt to the skillet and cook for an additional 20 minutes.
5. Add the Greek yogurt, water and let it simmer for 10 minutes or until the chicken is tender.
6. Garnish with cilantro. I serve the chicken with Brown Rice or Wild Rice.