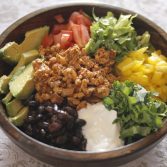 Open Tacos
Ingredients:
For the meat:
1 pound ground chicken/ground turkey
1 teaspoon olive oil
1 small onion diced
1 clove garlic chopped
1 teaspoon finely chopped ginger
1 packet of Whole Foods Taco Seasoning
¼ cup water
For the salad:
4 cups Romaine lettuce – finely chopped
1 cup chopped tomatoes
½ cup thinly sliced avocado
½ cup sliced yellow bell pepper
½ cup spicy canned black beans
¼ cup Greek yogurt (I use 2% Page yogurt)
¼ cup chopped Cilantro
¼ cup shredded cheese (Mexican blend)
¼ cup salsa verde (I use the fresh salsa from Whole Foods)
Directions:
Heat the olive oil in a pan. Add the onions, ginger and garlic. Cook until the onion looks transparent. Stir often.
Add the ground chicken and cook over medium heat until the chicken is done.
Add the taco seasoning and water and simmer until the liquid has evaporated, about 3-5 minutes.
For the Salad: I usually load up all the ingredients on a bed of lettuce and garnish with cilantro and salsa verde. Using cheese is optional. Makes 2 main course servings. Enjoy!