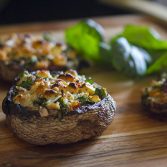 Portabella Pizza
Prep Time: 15 minutes (Use pre-made Marinara Sauce)
Cooking Time: 35 minutes
Ingredients:
6 Portabella Mushrooms
2 cups finely chopped spinach
1 cup feta cheese crumbles
1 lb. chicken – chopped into bite size cubes (I use organic chicken breast)
1 tbsp. EVOO
1 tsp. garlic paste
1 tsp. ginger paste
1 cup marinara sauce
Directions:
1. Preheat the oven to 350 degrees.
2. Wash the mushrooms thoroughly and scoop out the inside with a fork so that the surface of the mushrooms is smooth.
3. In a small mixing bowl, add the oil, ginger, garlic, salt and pepper and make a paste. Coat the inner surface of each mushroom with the paste.
4. Add a layer of marinara sauce, followed by a layer of chicken, spinach and feta cheese.
5. Sprinkle salt and pepper on top.
6. Bake for 35 minutes and serve hot. I serve these as an appetizer or as the main dish with a side salad.

Homemade Marinara Sauce
Here is the recipe for homemade marinara sauce. I usually freeze a jar of this sauce for various recipes.
Ingredients:
1 bay leaf
4 cloves garlic
1 tsp. oregano
1 can of organic tomatoes (use fresh tomatoes if you like)
1 tsp. black pepper
1/2 tsp. red pepper flakes
1 tbsp. EVOO
salt to taste
Directions:
1. Place oil, garlic and red pepper flakes in a cold medium saucepan and heat over medium heat until the garlic becomes fragrant and just starts to sizzle, being careful not to let the garlic brown; about 1 minute.
2. Pour the tomatoes into the pan; add oregano, bay leaves, salt and pepper, and stir to combine.
3. Reduce heat to medium low and allow simmering for about 20 minutes. Stir occasionally to keep from sticking to the bottom of the pan. Add 1/4 cup water if the sauce is too thick.
4. Remove from heat, and remove bay leaves before serving.