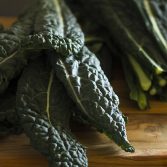 Super Food Kale!
What's a Super Food? What is Kale? And why is it so good for you?
We all know that green leafy vegetables are good for health, as they are a great source of iron, fiber and calcium. So why is Kale so much better than lettuce or spinach? And what makes it a super food?
Quiet simply, "Super food" refers to foods that are low in calories and high in nutrients and hence become your body's best friend!
Kale is a green leafy vegetable that hails from the cabbage family which also includes broccoli, cauliflower and collards greens.
It has gained popularity as a super food because it is packed with Vitamins (A and C in abundance) and is an excellent source of minerals like Calcium and Iron. Kale also contains Omega -3 and Omega – 6 fatty acids that are vital for brain health and phytonutrients that have anti- cancer properties.
With all these nutrients, a cup of raw Kale is only 33 calories, which makes it a super food!
Nutrient Facts of Kale:
Portion Size: 1 Cup Raw Chopped Kale
Calories: 33
Calories from fat: 4
Omega-3 fatty acids: 121 mg
Omega -6 fatty acids: 92.4 mg
Saturated fat: 0
Cholesterol: 0
Dietary fiber: 1g
Protein: 2g
Sodium: 29 mg
Calcium: 90. 5 mg
Iron: 1.1 mg
Potassium: 299 mg
Copper: 0.2 mg
Lutein and zeaxanthin: 26.5 mg
Vitamin A: 10,302 IU
Vitamin C: 81 mg
Vitamin K: 547 mcg
Vitamin B6: 0.2 mg
Manganese: 0.5 mg
Types of Kale: Kale can be curly, flat (Lacianto Kale) or even have bluish purple veins (Red Russian Kale) mixed with the green. They all differ in flavor and texture.
How to cook kale? I love putting raw Kale in my smoothies! But you can also sauté it with other vegetables, make a salad or soup out of it.
Here are 2 of my favorite Kale recipes:
Uma's Post Workout Smoothie
Prep Time: 5 minutes
Ingredients:
1 Banana
1 cup frozen Berries (I use Blueberries and Strawberries)
2 cups chopped fresh Kale
1 teaspoon raw Almonds
1 cup unsweetened Almond milk
1 teaspoon Agave Nectar
1 cup Ice
Directions:
Mix all ingredients in the blender and blend into a smoothie. Enjoy immediately!
Kale Chips
Prep Time: 15 minutes
Ingredients:
1 bunch Kale (I use curly kale)
2 tablespoon Vinegar
1 tablespoon Extra Virgin Olive Oil (EVOO)
½ teaspoon sea salt
Directions:

1. Preheat oven to 350 degrees F.
2. Wash and dry kale leaves. Then separate the leaves from the ribs. Tear the leaves into smaller chip size pieces.
3. Combine the leaves with vinegar, oil and ¼ tsp. salt in a large mixing bowl. Then massage the oil into the Kale to make it slightly soft.
4. Spread out the kale into a single layer on a parchment-covered baking sheet. Sprinkle the remaining salt and bake for 10 minutes or until the kale is crunchy.
5. You can eat the kale chips fresh out of the oven or store them in a sealed container up to 1 week!
This is a great substitute to salty potato chips and my kids love it!