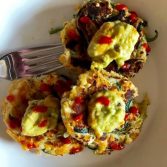 Sweet Potato Zucchini Fritters
Prep time: 30 minutes
Cooking time: 15 minutes
Servings: 4 (Makes 8 -10 fritters depending on the size)
Fritter Ingredients:
1 1/2 cups zoodles (zucchini noodles)
1 cup mashed sweet potato (use 1 medium size sweet potato)
1 cup finely chopped sweet onion
1 tablespoon freshly ground ginger garlic paste
1 cup coconut flour
2 eggs
1 teaspoon salt
1 teaspoon smoked paprika
1 tablespoon freshly squeezed lemon juice
grape seed oil for frying
Swaps:
• Use carrots instead of zucchini
• Use almond flour or gram flour instead of coconut flour
• Use coconut oil instead of grape seed oil
Directions:
1. For the Sweet Potatoes:
Wash, peel and cut into bite-size cubes. Fill the pot about half full (you will need just enough water to cover the sweet potatoes) and add a dash of salt. Bring to boiling. Add sweet potatoes. Cover the pan and cook sweet potatoes for 15 to 20 minutes or until they are tender enough to smash.
2. For the Zoodles:
They are basically just zucchini made into noodles. I use the Veggetti I bought from Amazon but you can use the Spiralizer of your choice or buy pre-made zoodles from Whole Foods.
3. Mix all ingredients (except grape seed oil) in a large bowl. Add the eggs at the end and massage the mixture into a ball. (Wash your hands thoroughly or use gloves to mix.)
4. Take a fistful of the mixture into your hand and flatten into a patty. You can make 8-10 fritters depending on the size.
5. Heat the grape seed oil in a large pan. Cook for 4 minutes on each side until golden and crispy.
6. Top with the Avocado Sauce and enjoy!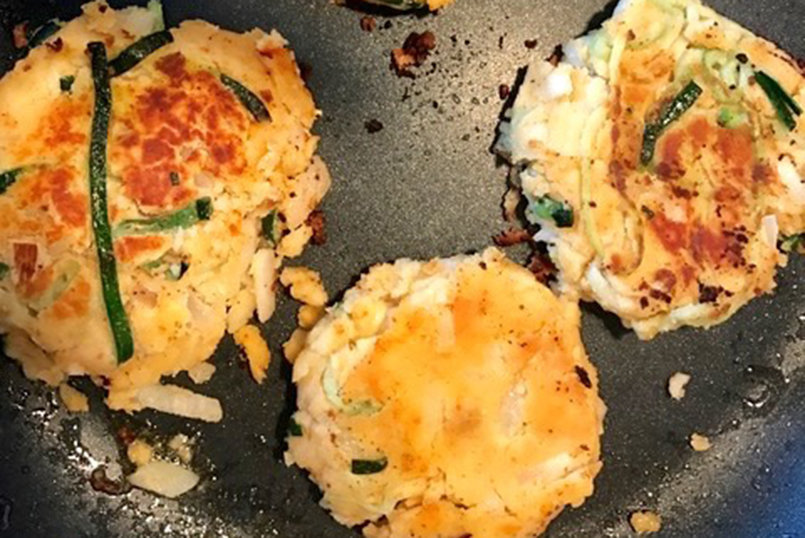 Avocado Sauce Ingredients:
1/2 fresh avocado
1 tablespoon Greek yogurt
1 teaspoon EVOO
1 teaspoon lemon juice
1 teaspoon cumin
1 teaspoon minced garlic
salt to taste
Directions:
Blend all ingredients into a smooth paste.
Serve along side the patties as a dipping sauce.
For 20+ healthy recipes, food lists and fitness tips check out the Om Meal Plan.