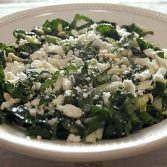 Uma's Kale Salad
Ingredients:
For the salad:
4 cups chopped kale
1 cup finely chopped green cabbage
¼ cup chopped fresh mint
¼ cup chopped cilantro
1 scallion, slivered
3 tablespoons roasted pine nuts
¼ cup Feta cheese
For the vinaigrette:
½ cup extra virgin olive oil
2 tablespoons toasted sesame oil
2 tablespoons seasoned rice wine vinegar (or apple cider vinegar)
1 tablespoon soy sauce
1 ½ tablespoons honey
dash of cayenne pepper
Directions:
Make the dressing by whisking all the ingredients together in a small mixing bowl. Alternately, you can add the ingredients to a small jar with a tight-fitting lid and shake vigorously to combine.
Combine all the salad ingredients except the pine nuts and Feta cheese in a large bowl. Add about half the dressing and toss well, adding more dressing as needed so that all the leaves are lightly coated. This salad tastes better if dressed at least 60 minutes before serving, giving the vinaigrette a chance to mellow out the crunch of the raw kale leaves.
Add the pine nuts and Feta cheese right before serving and toss again, seasoning to taste with salt and pepper. Makes 4 side servings, or 2 main course servings.